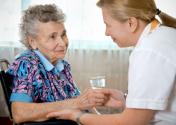 When hiring a caregiver, it is important to put the contract in writing. Courts can be especially strict about requiring contracts when caregivers are relatives, but a formal agreement is still necessary even if the caregiver is not a relative. A recent Michigan court ruling illustrates how failing to document an agreement with a non-relative caregiver can affect Medicaid benefits.
Jason Jensen hired a caregiver for his grandmother, Betty Jensen, who suffered from dementia. Mr. Jensen and the caregiver had an informal agreement and no contract was signed, but Mr. Jensen paid the caregiver a total of $19,000 from Ms. Jensen's assets over the course of the months she worked for Ms. Jensen.
Local Elder Law Attorneys in Ashburn, VA
Meet John Laster
Law Offices of John L. Laster
John Laster is a lawyer licensed to practice in Virginia, Maryland and the District of Columbia. He limits his practice to wealth transfer planning, trusts, wills, powers of attorney, health care decision-making issues, estate administration and related tax, elder law and disability concerns. Listed in The Best Lawyers...
(703) *** ****
Learn more
Tell us about your legal issue and we will put you in touch with John Laster.
Meet Samantha Fredieu
Hale Ball Carlson Baumgartner Murphy PLC
Attorney Samantha Simmons Fredieu is an associate at Hale Ball. Ms. Fredieu graduated magna cum laude from Vermont Law School where she was the symposium editor on the Vermont Law Review, a production editor on the Vermont Journal of Environmental Law, and a member of the Moot Court Advisory Board. She has clerked for...
(703) *** ****
Learn more
Tell us about your legal issue and we will put you in touch with Samantha Fredieu.
Meet Ron Landsman
Ron M. Landsman, P.A.
Ron M. Landsman has been practicing elder law since 1983, before it was known as elder law, originally with Landsman and Laster, Washington, D.C., then Landsman, Eakes and Laster, also in Arlington, VA, and since 1990 in his own practice in Montgomery County, Maryland. He has been among the most active members of the...
(240) *** ****
Learn more
Tell us about your legal issue and we will put you in touch with Ron Landsman.
When Ms. Jensen's condition worsened, she entered a nursing home and applied for Medicaid. Because there was no written contract in place, the state considered the payments to the caregiver to be transfers that were made for less than fair market value. Due to the transfers, the state established a penalty period before Ms. Jensen could qualify for Medicaid. Ms. Jensen died before the penalty period ended.
Mr. Jensen appealed the state's decision to court, and the trial court decided in his favor, ruling that the state Medicaid regulation requiring that a caregiver contract be in writing applied only to relative caregivers. The state appealed this ruling.
The Michigan Court of Appeals reversed the trial court's decision, stating that it was bound by the regulations, which require that caregiver contracts be in writing, even for a non-relative. According to the court, because there was no written contract, the payments to the caregiver were unlawful. To read the coourt's decision, click here.
If you are hiring a caregiver, even for a few hours a week, it is important to draw up a formal agreement, especially if you think you will ever apply for Medicaid long-term care benefits. To get help drafting an agreement, contact your attorney.
Last Modified: 03/27/2015