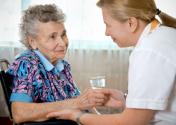 A growing number of people are entering into caregiver contracts with their family members. These contracts, also called personal service or personal care agreements, have many benefits, including rewarding the family member for indispensable help. But some fail to memorialize these caregiving arrangements in writing and instead keep them as informal verbal agreements. A recent Louisiana case shows the harmful impact on Medicaid eligibility that the lack of a written caregiving agreement can have.
Widley David entered a Louisiana nursing home in 2008. Between 2008 and 2010, Mr. David wrote six checks totaling $49,195 to his nephew and his nephew's wife, who are his closest living relatives. According to Mr. David, the checks were intended to repay the couple for daily care that they provided him in the nursing home. They visited Mr. David daily, drove him to appointments, and paid various bills. The nephew even quit his job so that he could devote himself to Mr. David's care.
Local Elder Law Attorneys in Ashburn, VA
Hammond and Associates, LLC, Elder Law, Estate Planning, Wills, Trusts, Probate
Bethesda, MD
Meet Samantha Fredieu
Hale Ball Carlson Baumgartner Murphy PLC
Attorney Samantha Simmons Fredieu is an associate at Hale Ball. Ms. Fredieu graduated magna cum laude from Vermont Law School where she was the symposium editor on the Vermont Law Review, a production editor on the Vermont Journal of Environmental Law, and a member of the Moot Court Advisory Board. She has clerked for...
(703) *** ****
Learn more
Tell us about your legal issue and we will put you in touch with Samantha Fredieu.
Meet Jean Ball
Hale Ball Carlson Baumgartner Murphy PLC
Jean Galloway Ball is certified in Elder Law by the National Elder Law Foundation. She is a 1977 honors graduate of the National Law Center, George Washington University, and she did her undergraduate work at the University of California at Berkeley, graduating Phi Beta Kappa in 1971. She is admitted to practice in Vir...
(703) *** ****
Learn more
Tell us about your legal issue and we will put you in touch with Jean Ball.
Meet Jeffrey Hammond
Hammond and Associates, LLC, Elder Law, Estate Planning, Wills, Trusts, Probate
For Jeffrey Hammond, the practice of Elder Law is personal. Jeff's many years of experience in law and in business did not prepare him for the crisis he faced in 2005 and 2006 when his father suffered a stroke and both of his parents suffered from dementia and other medical problems. At that time, Jeff began an i...
(301) *** ****
Learn more
Tell us about your legal issue and we will put you in touch with Jeffrey Hammond.
But when Mr. David applied for Medicaid in December 2010, Louisiana Medicaid officials contended that the checks were intended not to repay the relatives but to reduce Mr. David's assets so he could qualify for Medicaid. The officials determined that due to the asset transfers, Mr. David would have to wait nearly 15 months before qualifying for Medicaid.
The Medicaid officials noted that the payments would have been valid if they had been made as part of a written personal care agreement. Unfortunately, Mr. David and his relatives had never executed such an agreement. Nevertheless, a trial court ruled in favor of Mr. David, persuaded that the payments were reimbursement for care and not to qualify Mr. David for Medicaid. Louisiana Medicaid appealed this ruling.
On December 23, 2014, the Louisiana First Circuit Court of Appeal said it disagreed with the trial court and overturned the decision. The appeals court found that the lack of a personal care agreement made the transfers to the relatives improper. The court stated that a "payback arrangement or personal care agreement was necessary to validate this alleged arrangement; however, Mr. David did not offer any type of tangible or documentary evidence of an agreement, contract, or Personal Care Agreement to substantiate and validate his argument." (To read the court's decision, click here.)
If you intend to repay family members or friends for their caregiving work, you need to draw up a formal agreement, especially if you think you will ever apply for Medicaid long-term care benefits. It is important to get your elder law attorney's help in drafting this type of contract.
For more about caregiver contracts, click here.
For more on Medicaid's asset transfer rules, click here.
Last Modified: 12/31/2014