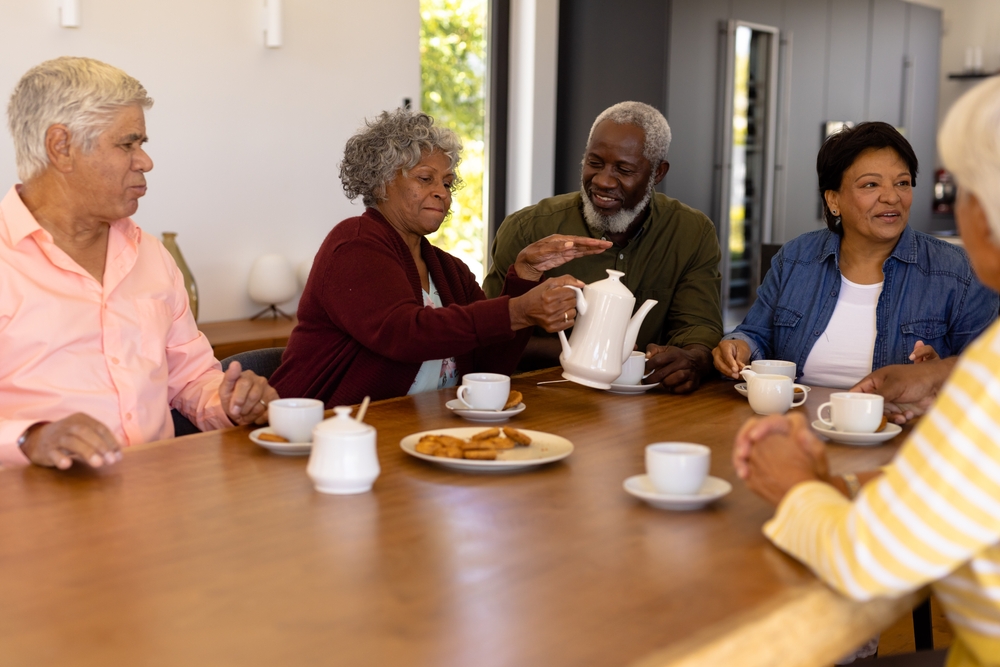 Adult day care, also known as adult day services, includes programs that assist seniors in completing activities of daily living, such as bathing, going to the bathroom, and getting dressed. Adult day services also help older adults remain social as they age, an important part of maintaining a healthy lifestyle.
If you are the caregiver of an older adult, you may consider using an adult day care to increase their quality of life. Here, learn more about services that can enhance their physical, mental, and social health. You'll also find information on potential payment options and whether these services are a good fit for your loved one.
Types of Adult Day Care Services
There are three categories of adult day care services:
social adult day care,

adult day health care, and

specialized adult day care.
You may choose one type or another based on your needs or the needs of your older family member. Fortunately, many facilities provide each service under one roof. Continue reading for more details about each type of adult day care service.
Social Adult Day Care
Social adult day care includes non-medical supervision and care for patients. Social adult day care focuses on patients' mental and physical health by increasing social interaction and providing nutritious meals.
Adult Day Health Care
Adult day health care provides physical, occupational, and speech therapy services. These programs usually have trained nurses on staff. Patients can look forward to receiving good meals and participating in social activities.
Specialized Adult Day Care
Specialized adult day care services tailor their care to patients with Alzheimer's or other types of dementia. Caregivers adapt the available social and health services to patients' abilities.
How Much Does Adult Day Care Cost?
The cost of adult day care services depends on the state. According to the Genworth Cost of Care Survey, the following is a state-by-state monthly cost of care breakdown:
Alabama = $758
Alaska = $1,562
Arizona = $2,102
Arkansas = 1,733
California = $1,842
Colorado = $1,950
Connecticut = $1,842
Delaware = $1,661
Florida = $1,517
Georgia = $1,300
Hawaii = $1,625
Idaho = $2,167
Illinois = $1,885
Indiana = $1,733
Iowa = $1,353
Kansas = $1,788
Kentucky = $1,690
Louisiana = $1,788
Maine = $2,600
Maryland = $1,928
Massachusetts = 1,587
Michigan = $1,733
Minnesota = $2,167
Mississippi = $1,408
Missouri = 1,907
Montana = $2,600
Nebraska = $,1842
Nevada = $1,788
New Hampshire = $1,842
New Jersey = $1,950
New Mexico = $1,993
New York = $1,907
North Carolina = $1,197
North Dakota = $3,383
Ohio = $1,733
Oklahoma = $1,495
Oregon = $2,654
Pennsylvania = $1,625
Rhode Island = $1,798
South Carolina = $1,408
South Dakota = $2,600
Tennessee = $1,733
Texas = $769
Utah = $1,939
Vermont = $3,224
Virginia = $1,690
Washington = $2,600
West Virginia = $1,083
Wisconsin = $1,723
Wyoming = $1,733
The numbers above can seem staggering, especially since it is a monthly expense. Fortunately, there are many ways to offset the cost of adult day care, including Medicaid, veterans programs, and private payment options.
Does Medicaid Cover the Cost of Adult Day Care?
The criteria to qualify for Medicaid programs that cover adult day services vary by state. Medicaid Waiver Programs sets the standards who is eligible for senior day care. Examples of what the Medicaid Waiver Programs consider when apportioning payment for day services include the applicant's income, financial resources, and functional ability.
Am I Eligible for Medicaid Adult Day Care Coverage?
Medicaid Waiver Programs are partially based on the applicant's financial status (income and the value of their countable assets). The financial criteria vary from state to state.
Income requirements for Medicaid are set by the state. Factors that your state's Medicaid Waiver Programs may consider include your and your spouse's combined incomes and your countable assets.
Do Veterans Affairs Programs Cover Adult Day Services?
If you are a retired service member, you may qualify for veterans benefits that cover adult day care. If you qualify for community care and meet the clinical criteria for an available service, your adult day service costs are likely covered.
Tips for Choosing Your Adult Day Care Provider
Choosing an adult day service is an important task. The facility will be caring for your family member, and you are making a large financial commitment. Consider the following before making your final choice:
The services the facility offers
The mental and physical functional ability of your loved one
Staff-to-patient ratio
Staff training
Whether they dispense medication
This is not an exhaustive list. If you are considering enrolling in an adult day service, find expert help here.
Created date: 04/11/2014
ADVERTISEMENT