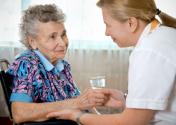 Most long-term care involves assisting with basic personal needs rather than providing medical care. The long-term care community measures personal needs by looking at whether an individual requires help with six basic activities that most people do every day without assistance, called activities of daily living (ADLs). ADLs are important to understand because they are used to gauge an individual's level of functioning, which in turn determines whether the individual qualifies for assistance like Medicaid or has triggered long-term care insurance coverage.
The six ADLs are generally recognized as:
Bathing. The ability to clean oneself and perform grooming activities like shaving and brushing teeth.
Dressing. The ability to get dressed by oneself without struggling with buttons and zippers.
Eating. The ability to feed oneself.
Transferring. Being able to either walk or move oneself from a bed to a wheelchair and back again.
Toileting. The ability to get on and off the toilet.
Continence. The ability to control one's bladder and bowel functions.
There are other more complicated tasks that are important to living independently, but aren't necessarily required on a daily basis. These are called instrumental activities of daily living (IADLs) and include the following:
Using a telephone
Managing medications
Preparing meals
Housekeeping
Managing personal finances
Shopping for groceries or clothes
Accessing transportation
Caring for pets
Long-term care providers use ADLs and IADLs as a measure of whether assistance is required and how much assistance is needed. In order to qualify for Medicaid nursing home benefits, the state may do an assessment to verify that an applicant needs assistance with ADLs. Other state assistance programs also may require that an applicant be unable to perform a certain number of ADLs before qualifying. In addition, long-term care insurance usually uses the inability to perform two or more ADLs as a trigger to begin paying on the policy.
Local Elder Law Attorneys in Ashburn, VA
Meet Margaret O'Reilly
Margaret A. O'Reilly, PC
Margaret A. O'Reilly is an estate planning and elder law attorney with over thirty-five years of legal experience. Attorney O'Reilly graduated from Duke University with a degree in psychology, and received her law degree from Northeastern University School of Law in Boston, Massachusetts. For over 15 y...
(703) *** ****
Learn more
Tell us about your legal issue and we will put you in touch with Margaret O'Reilly.
Meet Loretta Williams
Hale Ball Carlson Baumgartner Murphy PLC
Loretta Morris Williams is a certified elder law attorney by the National Elder Law Foundation. Ms. Williams was admitted to the Council of Advanced Practitioners, National Academy of Elder Law Attorneys (NAELA) in 2012. She serves as President of the Virginia Academy of Elder Law Attorneys. Ms. Willia...
(703) *** ****
Learn more
Tell us about your legal issue and we will put you in touch with Loretta Williams.
Meet Judith Mitnick
Needham Mitnick & Pollack, PLC
Judith Mtinick is well known for acting as a guardian, conservator, trustee or agent on behalf of clients or by court appointment. This experience gives her a wide perspective and extensive practical knowledge that she uses when advising clients in drafting their planning documents. Her experience, as a court appointed...
(703) *** ****
Learn more
Tell us about your legal issue and we will put you in touch with Judith Mitnick.