New Medicare Rule Encourages Doctors to Test for Alzheimer's Disease and Offer Care Planning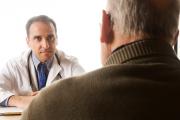 A new Medicare rule will promote earlier diagnosis of Alzheimer's disease. Medicare will now reimburse primary care doctors who conduct an Alzheimer's evaluation and offer information about care planning to elderly patients with cognitive impairment.
According to the Alzheimer's Association, more than 5 million Americans have the disease. In addition, more than 85 percent of Alzheimer's patients also have another chronic condition. But many are unaware that they have Alzheimer's disease because they haven't been diagnosed.
Local Elder Law Attorneys in Ashburn, VA
Meet Ron Landsman
Ron M. Landsman, P.A.
Ron M. Landsman has been practicing elder law since 1983, before it was known as elder law, originally with Landsman and Laster, Washington, D.C., then Landsman, Eakes and Laster, also in Arlington, VA, and since 1990 in his own practice in Montgomery County, Maryland. He has been among the most active members of the...
(240) *** ****
Learn more
Tell us about your legal issue and we will put you in touch with Ron Landsman.
Meet John Laster
Law Offices of John L. Laster
John Laster is a lawyer licensed to practice in Virginia, Maryland and the District of Columbia. He limits his practice to wealth transfer planning, trusts, wills, powers of attorney, health care decision-making issues, estate administration and related tax, elder law and disability concerns. Listed in The Best Lawyers...
(703) *** ****
Learn more
Tell us about your legal issue and we will put you in touch with John Laster.
Meet Evan Farr
Farr Law Firm
In practice since 1987, Fairfax Attorney Evan Farr is widely recognized as one of the leading Elder Law, Estate Planning, and Specials Needs attorneys in Virginia and one of foremost experts in the Country in the field of Medicaid Asset Protection and related Trusts. Evan Farr has been quoted or cited as an expert by n...
(703) *** ****
Learn more
Tell us about your legal issue and we will put you in touch with Evan Farr.
Under the new rule, primary care doctors who test patients for cognitive impairment can bill Medicare for their services. Testing for Alzheimer's disease can involve taking a thorough medical history, testing a patient's mental status, doing a comprehensive physical and neurological exam, and conducting blood tests and brain imaging. Previously, there was no specific Medicare reimbursement for dementia testing, so many doctors did not take the time to do it.
In addition, doctors can bill Medicare if they offer help to Alzheimer's patients with care planning by providing information on treatments and services. Receiving early diagnosis and proper care planning can be critical for Alzheimer's patients. According to Robert Egge, Alzheimer's Association Chief Public Policy Officer, "Proper care planning results in fewer hospitalizations, fewer emergency room visits and better management of medication — all of which improves the quality of life for both patients and caregivers, and helps manage overall care costs."
While Medicare will now pay for dementia testing and care planning, Medicare does not pay for long-term custodial care services for Alzheimer's patients. Medicare's nursing home coverage is limited to skilled care provided by a physical therapist, registered nurse, or licensed practical nurse.
For an article about the new rule from the Santa Cruz Sentinel, click here.
Last Modified: 05/26/2017