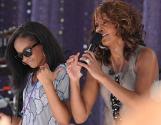 Nearly two decades before her death in 2012, singer Whitney Houston executed a will specifying how her assets would be handed down to any children she might have. That will from 1993 provided for a trust that would eventually parcel out her estate to her only child, Bobbi Kristina Brown, starting at age 21.
Bobbi Kristina was found unconscious in her bathtub on January 31, 2015. She remained in a medically induced coma until her death nearly seven months later on July 26, 2015, at age 22.
Questions About the Estate of Whitney Houston
When Bobbi Kristina died, what happened to the estate she was to inherit? Was Houston's ex-husband and Bobbi Kristina's father, Bobby Brown, entitled to a share?
What about Bobbi Kristina's partner at the time of her death, Nick Gordon, who was being sued by Bobbi Kristina's conservator for allegedly beating her up on the day she was found unconscious and for allegedly stealing thousands from her bank account?
Finally, could Whitney Houston have done more to protect her daughter, and are there lessons here for those with considerably fewer assets to pass on?
When she turned 21, Bobbi Kristina received 10 percent of Houston's estate, or reportedly about $2 million. Had she lived, at age 25 she would have received another one-sixth of the estate (roughly $3 million), and she would have had full access to the money at age 30.
"Everyone is going to try to grab [Houston's money], but it's not necessarily up for grabs," trusts and estates lawyer Jerry Reisman told USA Today. "And it's a lot of money. Don't forget the royalties coming in [from Houston's music]. That estate is never going to end."
After the Death of Bobbi Kristina Brown
In a 2016 wrongful death lawsuit, Nick Gordon, Bobbi Kristina's boyfriend, was found legally liable in Bobbi Kristina's death, although he never faced criminal charges. In that same lawsuit, the conservator of Bobbi Kristina's estate claimed that Gordon had intended to steal Bobbi Kristina's inheritance by falsely maintaining that he was married to Bobbi Kristina. Gordon died in 2020 from a heroin overdose.
As for the estimated $18 million of the Houston estate that Bobbi Kristina did not live to enjoy, Whitney Houston's will provided that if her daughter died unmarried and without children of her own and without a will, the remainder of the estate would go to Houston's two brothers and to her mother, Cissy Houston.
Bobby Brown was not entitled to any portion of this part of the estate, even though he is listed as a beneficiary in Houston's will, because the document referred to him as "my husband, Robert B. Brown." Houston and Brown divorced in 2007, so he no longer met the necessary requirement of being her husband.
Since 2022, the size of the Houston estate has reportedly quadrupled, following the releases that year of a biopic on Houston, a cosmetics line named after her, as well as other merchandise.
How Good Was Whitney Houston's Estate Plan?
Some have suggested that Whitney Houston's estate planning could have been better. Houston's will set up what is known as a "testamentary trust" for her daughter. This is a trust created by a will, meaning that it does not avoid the need for probate, and it becomes a public document. Houston could have accomplished the same goals through a "living trust," which would have kept the provisions of the trust private because it would pass outside of probate.
Also, Houston was relying on a will that was created in 1993, when she was married to Bobby Brown, and – except for a change in 2000 to who could serve as trustees – it was never updated, even after she and Brown divorced, Bobbi Kristina was born, or when Houston could better gauge whether her daughter could responsibly handle the money.
As it turned out, Houston may have given Bobbi Kristina more money than she could cope with at such a young age. The trustees of the trust – Bobbi's aunt and grandmother – certainly thought so. They filed court papers to change the will to delay the windfall to Bobbi Kristina, but the trustees later withdrew the request, no doubt realizing that courts invariably follow the terms of a will. At least Houston did have a plan that didn't give everything to Bobbi.
The morals of the story are to update your estate plan when life changes happen and to think long and hard about what effect inherited money will have on a child and on those close to them. As the Probate Lawyer Blog puts it in an article about the Houston estate, "Even $50,000 in the hands of a 21-year-old can be problematic."
To update your existing estate plan or to create one that works for you and your family, contact a qualified estate planning attorney near you today.
Created date: 08/05/2015
ADVERTISEMENT