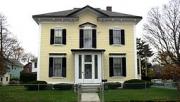 When leaving a home to your children, you can avoid probate by using either joint ownership or a revocable trust, but which is the better method?
If you add your child as a joint tenant on your house, you will each have an equal ownership interest in the property. If one joint tenant dies, his or her interest immediately ceases to exist and the other joint tenant owns the entire property. This has the advantage of avoiding probate.
Local Elder Law Attorneys in Ashburn, VA
Meet Evan Farr
Farr Law Firm
In practice since 1987, Fairfax Attorney Evan Farr is widely recognized as one of the leading Elder Law, Estate Planning, and Specials Needs attorneys in Virginia and one of foremost experts in the Country in the field of Medicaid Asset Protection and related Trusts. Evan Farr has been quoted or cited as an expert by n...
(703) *** ****
Learn more
Tell us about your legal issue and we will put you in touch with Evan Farr.
Meet Daniel Steven
Daniel N. Steven, LLC
Daniel N. Steven is an attorney licensed in Maryland and the District of Columbia. with many years of experience in complex estate planning and Elder Law. He is rated by Martindale-Hubbell as an AV Preeminent 5.0 out of 5 rated attorney.
(301) *** ****
Learn more
Tell us about your legal issue and we will put you in touch with Daniel Steven.
Meet Margaret O'Reilly
Margaret A. O'Reilly, PC
Margaret A. O'Reilly is an estate planning and elder law attorney with over thirty-five years of legal experience. Attorney O'Reilly graduated from Duke University with a degree in psychology, and received her law degree from Northeastern University School of Law in Boston, Massachusetts. For over 15 y...
(703) *** ****
Learn more
Tell us about your legal issue and we will put you in touch with Margaret O'Reilly.
A disadvantage of joint tenancy is that creditors can attach the tenant's property to satisfy a debt. So, for example, if a co-tenant defaults on debts, his or her creditors can sue in a "partition proceeding" to have the property interests divided and the property sold, even over the other owners' objections. In addition, even without an issue with a creditor, one co-owner of the property can sue to partition the property, so one owner can force another owner to move out.
Joint tenancy also has a capital gains impact for the child. When you give property to a child, the tax basis for the property is the same price that you purchased the property for. However, inherited property receives a "step up" in basis, which means the basis is the current value of the property. When you die, your child inherits your half of the property, so half of the property will receive a "step up" in basis. But the tax basis of the gifted half of the property will remain the original purchase price. If your child sells the house after you die, he or she would have to pay capital gains taxes on the difference between the tax basis and the selling price. The only way to avoid the tax is for the child to live in the house for at least two years before selling it. In that case, the child can exclude up to $250,000 ($500,000 for a couple) of capital gains from taxes.
If you put your property in a revocable trust with yourself as beneficiary and your child as beneficiary after you die, the property will go to your child without going through probate. A trust is also beneficial because it can guarantee you the right to live in the house and take into account changes in circumstances, such as your child passing away before you.
Another benefit of a trust is with capital gains taxes. The tax basis of property in a revocable trust is stepped up when you die, which means the basis would be the current value of the property. Therefore, if your child sells the property soon after inheriting it, the value of the property would likely not have changed much and the capital gains taxes would be low.
In general, a trust is more flexible and provides more options to protect you and your child, but circumstances always vary. You should talk to your attorney about how to pass down your property. To find an attorney near you, go here: http://www.elderlawanswers.com/elder-law-attorneys.
Last Modified: 05/26/2017