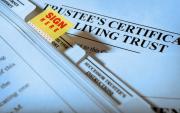 If you create a trust, you will need a separate person or institution, called a "trustee," to manage the trust either now or in the future, depending on the type of trust. Choosing the right trustee is crucial to making sure your wishes are carried out. The choice is important because being a trustee can be a difficult job, with a trustee's duties including making proper investments, paying bills, keeping accounts, and preparing tax returns.
A trust is a legal arrangement through which a trustee holds legal title to property for another person, called a "beneficiary." The trust document will name the trustee, although there are several different types of trusts. The simplest one is a revocable living trust in which the person who creates the trust maintains control of the trust while he or she is alive. In this situation, the trust document will name a successor trustee to take over after the original trustee dies or becomes incapacitated. Other trusts -- such as an irrevocable trust or special needs trust -- may have a separate trustee from the start.
Local Elder Law Attorneys in Ashburn, VA
Meet Mindy Felinton
Felinton Elder Law & Estate Planning Centers
Mindy Felinton concentrates in the areas of Medicaid planning, Veterans' Benefits, asset protection, nursing home planning, elder law, wills, estate planning, trusts, living wills, powers of attorney, probate administration and trust administration and began her legal career 30 years ago as an Assistant State Attorney...
(301) *** ****
Learn more
Tell us about your legal issue and we will put you in touch with Mindy Felinton.
Meet Evan Farr
Farr Law Firm
In practice since 1987, Fairfax Attorney Evan Farr is widely recognized as one of the leading Elder Law, Estate Planning, and Specials Needs attorneys in Virginia and one of foremost experts in the Country in the field of Medicaid Asset Protection and related Trusts. Evan Farr has been quoted or cited as an expert by n...
(703) *** ****
Learn more
Tell us about your legal issue and we will put you in touch with Evan Farr.
Meet Ron Landsman
Ron M. Landsman, P.A.
Ron M. Landsman has been practicing elder law since 1983, before it was known as elder law, originally with Landsman and Laster, Washington, D.C., then Landsman, Eakes and Laster, also in Arlington, VA, and since 1990 in his own practice in Montgomery County, Maryland. He has been among the most active members of the...
(240) *** ****
Learn more
Tell us about your legal issue and we will put you in touch with Ron Landsman.
The law isn't very strict about who may serve as your trustee, as long as the person is legally competent, meaning he or she is over 18 years of age and is capable of managing his or her own affairs. The main consideration when selecting a trustee is picking someone who is trustworthy. The trustee has a duty to manage the trust in the beneficiary's best interest. The trustee does not need legal or financial expertise, but he or she must have good judgment. In the case of a special needs trust, the trustee should have knowledge of federal benefits programs.
Another consideration is that the trustee be able to manage the trust for an extended period of time. Your choice of trustee should be someone who will likely be around for a long time and who has the time to devote to trustee duties. It is important that the trustee be of sound mind and body.
If you don't know anyone who meets these qualifications, you can look into hiring an independent trustee. This can be an individual or an institution with no beneficial interest in the trust. Some examples include: a bank or trust company, a professional trustee, an investment advisor or manager, an investment banker, an accountant or a lawyer. In addition to being independent, a professional trustee will usually have experience and expertise in managing trusts. If you aren't comfortable with having a stranger manage the trust, it may be possible to choose a family member and a professional trustee as co-trustees. The downside to hiring an independent trustee is that the trustee will charge a fee, which is usually a percentage of the trust.
Whomever you choose as trustee, it is important to reevaluate your choice every few years. The person who is right today may not be right tomorrow. Your attorney can help you determine who is the best trustee for you.
For more information about trusts, click here.
For information about what to ask before becoming a trustee, click here.
Last Modified: 03/24/2016