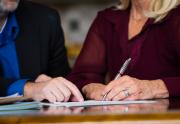 Photo: Rich Legg
Saying that there has been "undue influence" is often used as a reason to contest a will or estate plan, but what does it mean?
Undue influence occurs when someone exerts pressure on an individual, causing that individual to act contrary to his or her wishes and to the benefit of the influencer or the influencer's friends. The pressure can take the form of deception, harassment, threats, or isolation. Often the influencer separates the individual from their loved ones in order to coerce. The elderly and infirm are usually more susceptible to undue influence.
Local Elder Law Attorneys in Ashburn, VA
Meet Ron Landsman
Landsman Law Group
Ron M. Landsman has been practicing elder law since 1983, before it was known as elder law, originally with Landsman and Laster, Washington, D.C., then Landsman, Eakes and Laster, also in Arlington, VA, and since 1990 in his own practice in Montgomery County, Maryland. He has been among the most active members of the...
(240) *** ****
Learn more
Tell us about your legal issue and we will put you in touch with Ron Landsman.
Meet Loretta Williams
Hale Ball Carlson Baumgartner Murphy PLC
Loretta Morris Williams is a certified elder law attorney by the National Elder Law Foundation. Ms. Williams was admitted to the Council of Advanced Practitioners, National Academy of Elder Law Attorneys (NAELA) in 2012. She serves as President of the Virginia Academy of Elder Law Attorneys. Ms. Willia...
(703) *** ****
Learn more
Tell us about your legal issue and we will put you in touch with Loretta Williams.
Meet John Laster
Law Offices of John L. Laster
John Laster is a lawyer licensed to practice in Virginia, Maryland and the District of Columbia. He limits his practice to wealth transfer planning, trusts, wills, powers of attorney, health care decision-making issues, estate administration and related tax, elder law and disability concerns. Listed in The Best Lawyers...
(703) *** ****
Learn more
Tell us about your legal issue and we will put you in touch with John Laster.
To prove a loved one was subject to undue influence in drafting an estate plan, you have to show that the loved one disposed of his or her property in a way that was unexpected under the circumstances, that he or she is susceptible to undue influence (because of illness, age, frailty, or a special relationship with the influencer), and that the person who exerted the influence had the opportunity to do so. Generally, the burden of proving undue influence is on the person asserting undue influence. However, if the alleged influencer had a fiduciary relationship with your loved one, the burden may be on the influencer to prove that there was no undue influence. People who have a fiduciary relationship can include a child, a spouse, or an agent under a power of attorney.
When drawing up a will or estate plan, it is important to avoid even the appearance of undue influence. For example, if you are planning on leaving everything to your daughter who is also your primary caregiver, your other children may argue that your daughter took advantage of her position to influence you. To avoid the appearance of undue influence, do not involve any family members who are inheriting under your will in drafting your will. Family members should not be present when you discuss the will with your attorney or when you sign it. To be totally safe, family members shouldn't even drive or accompany you to the attorney's office. You can also get a formal assessment of your mental capabilities done by a medical professional before you draft estate planning documents.
Last Modified: 07/27/2016