Watch Out for Mistakes in the List of Doctors Covered by Your Medicare Advantage Plan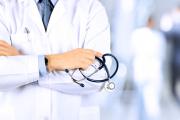 Medicare Advantage plans are a popular alternative to regular Medicare because the plans often offer lower out-of-pocket costs, but buyers need to make sure they know what they are paying for. A government review of Medicare Advantage plans revealed that their provider directories were often riddled with errors, causing those plans to face serious fines.
Medicare Advantage plans are provided by private insurers, unlike original Medicare, which is provided by the government. The government pays Medicare Advantage plans a fixed monthly fee to provide services to each Medicare beneficiary under their care. These plans are usually health maintenance organizations (HMOs) or preferred provider organizations (PPOs) that only cover care provided by doctors in their network or charge higher rates for out-of-network care. The plans often look attractive because they offer the same basic coverage as original Medicare plus some additional benefits and services that original Medicare doesn't offer.
Local Elder Law Attorneys in Ashburn, VA
Meet Margaret O'Reilly
Margaret A. O'Reilly, PC
Margaret A. O'Reilly is an estate planning and elder law attorney with over thirty-five years of legal experience. Attorney O'Reilly graduated from Duke University with a degree in psychology, and received her law degree from Northeastern University School of Law in Boston, Massachusetts. For over 15 y...
(703) *** ****
Learn more
Tell us about your legal issue and we will put you in touch with Margaret O'Reilly.
Meet Jean Ball
Hale Ball Carlson Baumgartner Murphy PLC
Jean Galloway Ball is certified in Elder Law by the National Elder Law Foundation. She is a 1977 honors graduate of the National Law Center, George Washington University, and she did her undergraduate work at the University of California at Berkeley, graduating Phi Beta Kappa in 1971. She is admitted to practice in Vir...
(703) *** ****
Learn more
Tell us about your legal issue and we will put you in touch with Jean Ball.
Meet Ron Landsman
Ron M. Landsman, P.A.
Ron M. Landsman has been practicing elder law since 1983, before it was known as elder law, originally with Landsman and Laster, Washington, D.C., then Landsman, Eakes and Laster, also in Arlington, VA, and since 1990 in his own practice in Montgomery County, Maryland. He has been among the most active members of the...
(240) *** ****
Learn more
Tell us about your legal issue and we will put you in touch with Ron Landsman.
Because Medicare Advantage plans have different coverage rules for out-of-network care, it is important to know which doctors and hospitals are in a plan's network. However, the Centers for Medicare & Medicaid Services (CMS) conducted a review of online provider directories for Medicare Advantage plans and found that there was incorrect information for half of the 5,832 doctors listed in directories for 54 Medicare Advantage plans that represented a third of all Medicare Advantage providers.
As a result of the review, CMS warned 21 Medicare Advantage insurers to fix the errors by February 6, 2017, or face serious fines. In 2016, CMS enacted a rule requiring plans to contact doctors and providers every three months to update their online directories. A Medicare Advantage plan can face a penalty of up to $25,000 a day per beneficiary if errors aren't corrected.
Before purchasing a Medicare Advantage plan, you should double check with the doctors and hospitals you use that they are covered by the insurance. For information on how to leave a Medicare Advantage plan, go here: http://www.elderlawanswers.com/entering-and-leaving-medicare-advantage-plans-12268.
For an article from PBS.org about errors in Medicare Advantage plans, click here.
Last Modified: 05/26/2017