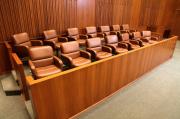 In many states, seniors have the right to decline jury duty based on their age. But the age limits and rules vary by state and by type of court, so if you are summoned for jury duty, check with the court to determine if you are exempt.
The majority of states have a rule in place that allows individuals over a certain age to choose not to serve on a jury if called. How this works varies by state and by court. Some states allow anyone over a certain age to be permanently exempted; other states allow seniors to be excused from serving if they are called. Some states require notice in writing; other states have a box the senior can check on the jury summons form. The ages at which seniors can be exempted or excused are 65 (Mississippi and South Carolina), 70 (Alabama, Alaska, California, Connecticut, Delaware, Florida, Georgia, Idaho, Illinois, Louisiana, Maryland, Massachusetts, Michigan, Minnesota, New Hampshire, Nevada, Oklahoma, Oregon, Texas, Virginia, and West Virginia), 72 (North Carolina and Wyoming), 75 (Arizona, Indiana, New Jersey, New Mexico, New York, Ohio, and Pennsylvania), and 80 (Hawaii and South Dakota).
Local Elder Law Attorneys in Ashburn, VA
Meet Daniel Steven
Daniel N. Steven, LLC
Daniel N. Steven is an attorney licensed in Maryland and the District of Columbia. with many years of experience in complex estate planning and Elder Law. He is rated by Martindale-Hubbell as an AV Preeminent 5.0 out of 5 rated attorney.
(301) *** ****
Learn more
Tell us about your legal issue and we will put you in touch with Daniel Steven.
Meet Jean Ball
Hale Ball Carlson Baumgartner Murphy PLC
Jean Galloway Ball is certified in Elder Law by the National Elder Law Foundation. She is a 1977 honors graduate of the National Law Center, George Washington University, and she did her undergraduate work at the University of California at Berkeley, graduating Phi Beta Kappa in 1971. She is admitted to practice in Vir...
(703) *** ****
Learn more
Tell us about your legal issue and we will put you in touch with Jean Ball.
Meet Evan Farr
Farr Law Firm
In practice since 1987, Fairfax Attorney Evan Farr is widely recognized as one of the leading Elder Law, Estate Planning, and Specials Needs attorneys in Virginia and one of foremost experts in the Country in the field of Medicaid Asset Protection and related Trusts. Evan Farr has been quoted or cited as an expert by n...
(703) *** ****
Learn more
Tell us about your legal issue and we will put you in touch with Evan Farr.
Some states have more complicated rules regarding seniors and jury duty. In Nevada, for example, everyone over age 65 who lives 65 miles or more away from the court is exempted from serving on a jury. Once you reach age 70 in Nevada, you are exempted from serving on a jury no matter where you live. In California, individuals with a permanent health problem can be excused from jury duty, but if you are 70 years or older, you don't need a doctor's verification of the health problem.
Each of the federal district courts has its own rules about jury service. Many federal courts offer excuses from service, on individual request, to designated groups, including people over age 70.
Last Modified: 03/29/2017