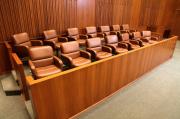 In many states, seniors have the right to decline jury duty based on their age. But the age limits and rules vary by state and by type of court, so if you are summoned for jury duty, check with the court to determine if you are exempt.
The majority of states have a rule in place that allows individuals over a certain age to choose not to serve on a jury if called. How this works varies by state and by court. Some states allow anyone over a certain age to be permanently exempted; other states allow seniors to be excused from serving if they are called. Some states require notice in writing; other states have a box the senior can check on the jury summons form.
To Get Out of Jury Duty, How Old Do I Have to Be?
The ages at which seniors can be exempted or excused are as follows:
Age 65 (Mississippi and South Carolina)
Age 70 (Alabama, Alaska, California, Delaware, Florida, Georgia, Idaho, Illinois, Louisiana, Maryland, Massachusetts, Michigan, Minnesota, New Hampshire, Nevada, Oklahoma, Oregon, Texas, Virginia, and West Virginia)
Age 72 (North Carolina and Wyoming)
Age 75 (Arizona, Connecticut, Indiana, New Jersey, New Mexico, Ohio, and Pennsylvania)
Age 80 (Hawaii and South Dakota)
Some states have more complicated rules regarding seniors and jury duty. In Nevada, for example, everyone over age 65 who lives 65 miles or more away from the court is exempted from serving on a jury. Once you reach age 70 in Nevada, you are exempted from serving on a jury no matter where you live. In California, individuals with a permanent health problem can be excused from jury duty, but if you are 70 years or older, you don't need a doctor's verification of the health problem.
Each of the federal district courts has its own rules about jury service. Many federal courts offer excuses from service, on individual request, to designated groups, including people over age 70.
Last Modified: 11/08/2022

ADVERTISEMENT