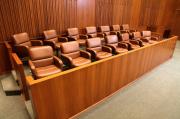 In many states, seniors have the right to decline jury duty based on their age. But the age limits and rules vary by state and by type of court, so if you are summoned for jury duty, check with the court to determine if you are exempt.
The majority of states have a rule in place that allows individuals over a certain age to choose not to serve on a jury if called. How this works varies by state and by court. Some states allow anyone over a certain age to be permanently exempted; other states allow seniors to be excused from serving if they are called. Some states require notice in writing; other states have a box the senior can check on the jury summons form. The ages at which seniors can be exempted or excused are 65 (Mississippi and South Carolina), 70 (Alabama, Alaska, California, Connecticut, Delaware, Florida, Georgia, Idaho, Illinois, Louisiana, Maryland, Massachusetts, Michigan, Minnesota, New Hampshire, Nevada, Oklahoma, Oregon, Texas, Virginia, and West Virginia), 72 (North Carolina and Wyoming), 75 (Arizona, Indiana, New Jersey, New Mexico, New York, Ohio, and Pennsylvania), and 80 (Hawaii and South Dakota).
Local Elder Law Attorneys in Ashburn, VA
Meet Samantha Fredieu
Hale Ball Carlson Baumgartner Murphy PLC
Attorney Samantha Simmons Fredieu is an associate at Hale Ball. Ms. Fredieu graduated magna cum laude from Vermont Law School where she was the symposium editor on the Vermont Law Review, a production editor on the Vermont Journal of Environmental Law, and a member of the Moot Court Advisory Board. She has clerked for...
(703) *** ****
Learn more
Tell us about your legal issue and we will put you in touch with Samantha Fredieu.
Meet Margaret O'Reilly
Margaret A. O'Reilly, PC
Margaret A. O'Reilly is an estate planning and elder law attorney with over thirty-five years of legal experience. Attorney O'Reilly graduated from Duke University with a degree in psychology, and received her law degree from Northeastern University School of Law in Boston, Massachusetts. For over 15 y...
(703) *** ****
Learn more
Tell us about your legal issue and we will put you in touch with Margaret O'Reilly.
Meet Judith Mitnick
Needham Mitnick & Pollack, PLC
Judith Mtinick is well known for acting as a guardian, conservator, trustee or agent on behalf of clients or by court appointment. This experience gives her a wide perspective and extensive practical knowledge that she uses when advising clients in drafting their planning documents. Her experience, as a court appointed...
(703) *** ****
Learn more
Tell us about your legal issue and we will put you in touch with Judith Mitnick.
Some states have more complicated rules regarding seniors and jury duty. In Nevada, for example, everyone over age 65 who lives 65 miles or more away from the court is exempted from serving on a jury. Once you reach age 70 in Nevada, you are exempted from serving on a jury no matter where you live. In California, individuals with a permanent health problem can be excused from jury duty, but if you are 70 years or older, you don't need a doctor's verification of the health problem.
Each of the federal district courts has its own rules about jury service. Many federal courts offer excuses from service, on individual request, to designated groups, including people over age 70.
Last Modified: 03/29/2017