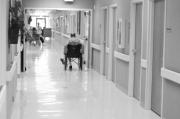 One of a family's worst nightmares is their loved one suffering abuse in a nursing home or assisted living facility. Abuse can come from staff members, but a more common source of abuse may actually be other residents. Researchers believe that despite the prevalence of the problem, resident-on-resident abuse is underreported.
A 2014 study by Cornell University-Weill Cornell Medical College found that one in five nursing home residents in 10 New York state facilities were involved in at least one aggressive encounter with fellow residents. Resident-on-resident abuse can take the form of verbal, physical or sexual abuse, or unwelcome entry into another resident's room. In some rare instances, the abuse can be fatal.
Local Elder Law Attorneys in Ashburn, VA
Meet Loretta Williams
Hale Ball Carlson Baumgartner Murphy PLC
Loretta Morris Williams is a certified elder law attorney by the National Elder Law Foundation. Ms. Williams was admitted to the Council of Advanced Practitioners, National Academy of Elder Law Attorneys (NAELA) in 2012. She serves as President of the Virginia Academy of Elder Law Attorneys. Ms. Willia...
(703) *** ****
Learn more
Tell us about your legal issue and we will put you in touch with Loretta Williams.
Meet Evan Farr
Farr Law Firm
In practice since 1987, Fairfax Attorney Evan Farr is widely recognized as one of the leading Elder Law, Estate Planning, and Specials Needs attorneys in Virginia and one of foremost experts in the Country in the field of Medicaid Asset Protection and related Trusts. Evan Farr has been quoted or cited as an expert by n...
(703) *** ****
Learn more
Tell us about your legal issue and we will put you in touch with Evan Farr.
Meet Mindy Felinton
Felinton Elder Law & Estate Planning Centers
Mindy Felinton concentrates in the areas of Medicaid planning, Veterans' Benefits, asset protection, nursing home planning, elder law, wills, estate planning, trusts, living wills, powers of attorney, probate administration and trust administration and began her legal career 30 years ago as an Assistant State Attorney...
(301) *** ****
Learn more
Tell us about your legal issue and we will put you in touch with Mindy Felinton.
Perpetrators of aggressive behavior tend to be residents who are somewhat cognitively impaired or suffer from a mood disorder. According to Karl Pillemer, a professor of gerontology and co-author of the study, "Given that nursing homes are environments where people live close together, and many residents have lowered inhibitions because of dementia, such incidents are not surprising." The authors of the study called for education of nursing home staff members to be able to recognize when incidents occur.
Federal nursing home law gives nursing home residents the right to be free from abuse, including abuse from fellow residents. If you or a loved one is having a problem with another nursing home resident, there are steps you can take. The National Consumer Voice for Quality Long Term Care has put together a fact sheet with information to help residents identify and deal with abuse. Some options for reporting include telling the facility administrator or staff, contacting the local long-term care ombudsman, or contacting the state regulatory agency.
Assisted living facilities are regulated by the states. While regulations vary, residents in assisted living facilities can also report abuse to the long-term care ombudsman in their state or to the state regulatory agency.
For the fact sheet from The National Consumer Voice, click here.
For information about the study, click here.
Last Modified: 07/14/2015