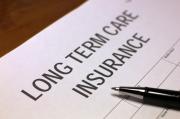 Overall costs for new long-term care insurance coverage -- which pays for care in nursing homes and, increasingly, at home as well -- increased 8.6 percent compared to a year ago, according to the 2015 Long Term Care Insurance Price Index.
A healthy 55-year-old man can expect to pay $1,060 annually for $164,000 in current long-term care insurance benefits, according to the Index, an annual report from the American Association for Long-Term Care Insurance, an industry group. This amount is a 15 percent increase from the 2014 figure of $925, although the 2014 figure represented a 15 percent decline from 2013, meaning that the annual premium has stayed steady between 2013 and 2015, at least for healthy middle-aged men.
Leading insurers began charging women higher premiums in 2013 due to their increased likelihood of needing long-term care. Coverage equal to that of the man in the example above would cost a 55-year-old single woman $1,390, a 13 percent increase from 2014's figure of $1,225 per year. (The National Women's Law Center is suing four insurers on the grounds that gender-based pricing violates the Affordable Care Act's prohibition against sex discrimination in health care.)
However, rates vary significantly from insurer to insurer for virtually identical policy benefits, and this is even more the case this year than in prior years, the association said. "In some situations the difference between the lowest-cost policy and the highest-cost was 34 percent but it could be as much as 119 percent," the association's executive director, Jesse Slome, pointed out. "Our average 55-year-old woman could pay as little as $890 a year or as much as $1,829 based on which insurer she buys from."
A married couple both age 60 would pay $2,170 per year combined for a total of $328,000 of long-term care insurance coverage. In 2014, the association reported that a couple could expect to pay $1,980. Adding an inflation growth option that builds their benefit pool to a combined $730,000 at age 85 would add $1,760 to the couple's yearly cost for a total of $3,930.
This year's Index includes rates from 10 insurers, using policies sold in Tennessee, a "representative" state, Slome told the New York Times.
Consumers Buying Less Coverage
These prices, of course, are for new policies. Some long-term care insurers have been raising premiums on existing policyholders by even greater rates. Sellers of long-term care coverage have been hit particularly hard by the climate of historically low interest rates and higher-than expected future claims. For example, Genworth Financial, the industry leader, hiked premiums on some of its older policies by as much as 50 percent in 2012.
Higher premiums mean that fewer consumers are buying long-term care coverage, and those who are buying are purchasing less protection, says Forbes magazine columnist Howard Gleckman. Gleckman notes that an industry-wide survey published in July 2014 found that sales of three-year policies increased from 23.6 percent in 2007 to 35.3 percent in 2013, while sales of five-year policies dropped from 18.9 percent to 13.5 percent. Sales of more expensive policies that offer lifetime coverage fell from 5.7 percent to just 3.6 percent. Consumers are also opting for lower daily benefit amounts and less inflation protection.
Gleckman noted that the price disparity in inflation protection is especially striking. According to the magazine Broker World, a typical 60-year old male could buy a $200,000 policy with no inflation protection for about $1,300 a year, depending on the carrier. The same policy with 5 percent inflation protection would cost almost three times as much, nearly $3,700.
For the association's one-page PDF showing average prices for common scenarios, including comparisons to 2014 prices, click here.
Read the press release of the American Association for Long-Term Care Insurance here.
For an article on how to reduce long-term care insurance costs, click here.
For more on long-term care insurance, click here.
Created date: 02/26/2015
ADVERTISEMENT