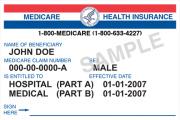 Medicare beneficiaries often buy "Medigap" insurance that pays for many of regular Medicare's deductibles and copayments. But as a result of legislation just passed by Congress, starting in 2020 Medigap plans will no longer be allowed to offer coverage of the Medicare Part B deductible, which is currently $166 (in 2016). However, current Medigap policyholders and those buying policies before 2020 will still be eligible for the deductible coverage after that date.
The change is an effort to help pay for so-called "doc fix" legislation that overhauls the way Medicare pays doctors and that is expected to cost $200 billion over 10 years. Medicare Part B covers doctor visits and other outpatient care, and currently Medigap plans C and F offer coverage of the Part B deductible. The reasoning behind making Medicare beneficiaries pay the deductible themselves is that it will cause them to think twice before going to a doctor and perhaps costing the Medicare system unnecessary money.
Local Elder Law Attorneys in Ashburn, VA
Meet Daniel Steven
Daniel N. Steven, LLC
Daniel N. Steven is an attorney licensed in Maryland and the District of Columbia. with many years of experience in complex estate planning and Elder Law. He is rated by Martindale-Hubbell as an AV Preeminent 5.0 out of 5 rated attorney.
(301) *** ****
Learn more
Tell us about your legal issue and we will put you in touch with Daniel Steven.
Meet Margaret O'Reilly
Margaret A. O'Reilly, PC
Margaret A. O'Reilly is an estate planning and elder law attorney with over thirty-five years of legal experience. Attorney O'Reilly graduated from Duke University with a degree in psychology, and received her law degree from Northeastern University School of Law in Boston, Massachusetts. For over 15 y...
(703) *** ****
Learn more
Tell us about your legal issue and we will put you in touch with Margaret O'Reilly.
Meet Mindy Felinton
Felinton Elder Law & Estate Planning Centers
Mindy Felinton concentrates in the areas of Medicaid planning, Veterans' Benefits, asset protection, nursing home planning, elder law, wills, estate planning, trusts, living wills, powers of attorney, probate administration and trust administration and began her legal career 30 years ago as an Assistant State Attorney...
(301) *** ****
Learn more
Tell us about your legal issue and we will put you in touch with Mindy Felinton.
Some argue, however, that if the change prompts beneficiaries to forego needed medical care, they may simply require more expensive care later, costing Medicare more in the end. Critics also say that the change will encourage more beneficiaries to abandon regular Medicare and join Medicare Advantage plans, which will still be able to cover the deductible.
In addition to the Medigap change, affluent seniors will have to pay higher Part B premiums as a result of the legislation. Starting in 2018, individuals with incomes between $133,500 and $214,000 (or twice these figures for couples) will pay more; details here. And the regular Part B premium will rise faster than under current law as a result of the "doc fix" legislation.
For details on the changes from Reuters, click here.
For the Center for Medicare Advocacy's analysis of the "doc fix" bill's impact on Medicare beneficiaries, click here.
For more about Medigap plans, click here.
For more about Medicare, click here
Last Modified: 01/28/2016